Aprenda a utilizar la herramienta de inteligencia empresarial y análisis Power BI de Microsoft.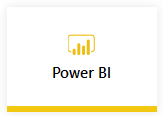 Realizando el curso de Power BI a distancia o de forma presencial puede crear paneles de datos y visualizaciones en cuestión de minutos. Clases individuales o para grupos.
Rellene el formulario de contacto, o envíe un email a consultas.
Microsoft Excel and others are registered trademarks of Microsoft Corporation in USA and/or other countries. All other trademarks are the property of their respective owners.