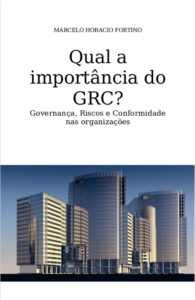 Blog de artículos sobres como GRC (Gobernanza, Riesgos y Compliance), ERM (Enterprise Risk Management), Gobernanza de TI (Tecnología de la Información), COBIT® 5, COSO (Committee of Sponsoring Organizations of the Treadway Commission), gestión de riesgos, compliance, integridad, ética empresarial, auditoría y control interno, auditoría de TI/SI (Tecnologia de la Información/Seguridad de la Información), ciberseguridad, NIST (National Institute of Standards and Technology), Cybersecurity Framework, normas ISO (International Organization for Standarization), BSC (Balanced Scorecard), gestión de projectos, PMBOK® (Project Management Body of Knowledge), calidad de software, CMMI (Capability Maturity Model Integration), seis sigma, ITIL® (Information Technology Infrastructure Library) y gestión de servicios de TI, entre otros.

"You never change things by fighting the existing reality. To change something, build a new model that makes the existing model obsolete" – Buckminster Fuller
.
Sobre mí
Marcelo Horacio Fortino: MBA en Gestión de Projectos. Tecnólogo en gestión de TI. 20 años de experiencia internacional como consultor, gestor de projectos, instructor de TI, sysadmin y desarrollador web. Especialista en Open Source y Software Libre. Autor de los libros "Qual a importância do GRC? Governança, Riscos e Conformidade nas organizações" y "Tutoriales GNU/Linux: Hacking para principiantes". Certificado ITILv3, ITSM based on ISO/IEC 20000, SCRUM Fundamentals Certified. Membro do ISACA, FSF e Hispalinux.